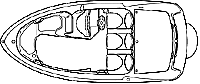 This page is dedicated to my latest toy, the Sea Ray SeaRayder F16XR Jet Boat.
The pictures shown here, while not of my actual boat, are identical to my 1997 model.
"Blast off in a Sea Rayder F-16 and experience more than you ever thought possible in a jet boat: more room to share with your friends, more storage for your water toys and the most fun per foot in boating. With its superior handling and ride characteristics, the F-16 blasts through rough water and chop like no other jet boat. Its superior craftsmanship makes it the Top Gun of the entire jet boat category." -Sea Ray Product Literature, 1998.
Overview
Designed to hold up to 5 passengers, the F16XR exhibits great handling and a lightning-quick hole-shot.
Background
This was Sea Ray's single entry into the jetboat market. Currently out of production.
Key Features
A 175-hp Mercury XR2 Sportjet powered the F16 to a top end speed of 50 mph. To give you an idea of how responsive the boat is, you can only turn the wheel ¼-turn lock to lock and that's still plenty to get you spinning donuts. This jetboat has a two-tiered swim platform to act as a staging area for skiers or wakeboarders, and the three seats across the bench featured good deep padding. A forward lounge rounds out the seating for four, with good grabrails all around.
Contact: Sea Ray Boats, Inc. 2600 Sea Ray Blvd., Knoxville, TN 37914, Phone: (800)SRBOATS, www.searay.com.
Though this boat's no longer in production, it made quite a statement in the jetboat market when it was. The F16 had three side-by-side bolster-type seats across the main bench area, with the helm seat to starboard. Forward of the helm, a curving lounge with grabrail can seat a fourth adult. The fiberglass engine hatch (not padded) raises easily thanks to gas-assist struts to reveal the powerful 175-hp Mercury Sportjet XR2 inside. It was a simple matter to send the F16 into a 180-degree turn simply by cranking the wheel hard over and yanking back on the single-lever engine control from forward to reverse. (Remember, there's no "transmission" to ruin on a jet boat since the engine is always in forward gear. The reverse position simply lowers a bucket over the jet nozzle to redirect the water flow forward.) This maneuver takes a bit of practice but it's a guaranteed thriller.The F16's top-end speed of 50 mph at 5400rpm is plenty to get you where you're going in flat water, and with her 25-gallon fuel tank the F16 had a range of 100 miles at 31.6 mph.

Sea Rayder F- 16XR Specifications
                Base Price (when new)		$18,000 U.S.
		

Overall Length

  

                

15'6" (4.72 m) 
                

w/Std. Swim Platform

            

16'4" (4.98 m) 
                

Beam

 

            

        	

6'11" (2.11 m) 
                

Draft 

          

                

11" (28 cm) 
                

Dry Weight

      

        

	

1,425 lbs (648 kg) 
                

Fuel Capacity

    

               

25 gals (94.6 liters) 
                

Dead Rise

        

        

	

23 degrees
Hull & Deck Features
Arctic White Gel Coat
Patented Hull Design (Patent Pending) 
Internal Fiberglass Hull Structure 
Gel Coated Graphics 
(Tropical Blue/Green, Purple/Red, Black/Fuchsia) 
High Performance Vinylester Resin 
Color Coordinated Thru-Hull Fittings 
Navigation Lights 
Stainless Steel Bow & Stern Eyes 
Stainless Steel Lifting Eye 
Stainless Steel Transom Rail w/Integral Ski Tow 
PVC Rub Rail w/Color Coordinated Vinyl Insert 
Integral Swim Platform 
Swim Step w/Grab Handle 
Two Piece Fiberglass Engine Hatch w/Integral Ventilation 
Drain Plugs (2) 
Meets Applicable USCG & ABYC Standards 
Upright & Level Flotation 
NMMA Certification 
Vac Pac

Cockpit Features
Molded Urethane Dash 
Fiberglass Side Console w/Glove Box 
Console Mirror 
Contoured Bolstered Seating 
Self-Bailing Fiberglass Cockpit Liner w/Non-Skid 
Color Coordinated Grab Handles (5) 
Lockable Engine Compartment w/Acoustical Foam Insulation 
Forward Padded Seat w/Bolster & Storage Below 
Removable Cooler 
Cockpit Drink Holders 
Port & Starboard Bilge Storage 
Ski & Kneeboard Storage Rack 
Clarion AM/FM Cassette Stereo w/2 Waterproof Speakers

Technical
 Bilge Pump 
Electric Bilge Blower 
1/4 Turn Steering 
Steering Wheel 
Shift & Throttle Lever 
Battery Box 
Color Coded Wiring 
Fuel Tank w/Manual Shut-Off Valve & Electric Sending Unit 
Audible Engine Alarm (Oil & Temperature) 
Illuminated Weatherproof Rocker Switches w/ISO Symbols
 Custom Sea Ray Backlit Instrumentation w/Low Glare Blue Night Lighting
 Tachometer w/Hourmeter
 Speedometer
 Fuel Gauge
Ignition Cut-Off Switch w/Safety Lanyard
 Oil Injection
 Engine RPM Limiter
 Fire Extinguisher Discharge Port

 
Special Custom Painted Trailer
 Winch w/Nylon Strap & Hook
 Bearing Protectors 
Transom Tie Down Straps 
Waterproof Lights 
Safety Chains
 Buddy Bearings






Standard Engine

Sport Jet 120 - w/Stainless Steel Impeller By Mercury Marine

Impeller Horsepower:  175 (131 kW)
Max RPM (W.O.T.):  5000-5500
Weight (lbs/kg):  305/139
Cylinders/Configuration:  V-6 (60° vee)
Displacement (Liter/CID):  2.5L/153 
Bore & Stroke (in/mm):  3.50 x 2.65/89 x 67 
Induction System:  Loop Charge (3 x 2-V Carburetors)
Cooling System:  Water Cooled (Self-Draining)
Starter:   12-V Electric
Alternator:  15-AMP Fully Regulated
Ignition System:  Capacitor Discharge
Fuel Requirements:  87 Octane (Minimum) [(R+M)/2]
Lubrication System:  Gear-Driven, Variable Ratio 
(3.0 Gallon Remote Reservoir with Engine-Mounted Reserve) 
Starting System:  Turn-key electric with Auto-Prime 
Engine Protection System(s):  Over-Speed, Overheat Warning, Low Oil 
Pump Type:  Mixed Flow, Gear-Driven 
Impeller Diameter:  7.25/18.4 
Impeller Type/Material:  3-Blade Progessive Pitch Stainless Steel
Gear Ratio:  1.25:1
Reverse:  High Thrust Twin Aperture Diverter
Exhaust System:  Dual Outlet - Below Water
Flushing System: Standard Equipment
Options/Accessories
 Travel/Storage Cover 
Galvanizing For Trailer 
Tongue Jack 
Bimini Top 
Snap-In Carpet 



Test Results
from www.boattest.com
| | | | | | | | | |
| --- | --- | --- | --- | --- | --- | --- | --- | --- |
| RPM | MPH | Knots | Total GPH | MPG | NMPG | Range | NM Range | dBa |
| 1000 | 3.4 | 2.9 | 0.1 | 33.50 | 29.13 | 754 | 655 | 74 |
| 1500 | 5.2 | 4.5 | 0.3 | 17.33 | 15.07 | 390 | 339 | 77 |
| 2000 | 6.3 | 5.5 | 1.0 | 6.30 | 5.48 | 142 | 123 | 84 |
| 2500 | 7.4 | 6.4 | 2.6 | 2.83 | 2.46 | 64 | 55 | 86 |
| 3000 | 8.0 | 6.9 | 4.0 | 1.99 | 1.73 | 45 | 39 | 87 |
| 3500 | 10.3 | 8.9 | 5.7 | 1.80 | 1.56 | 40 | 35 | 90 |
| 4000 | 31.6 | 27.5 | 7.1 | 4.45 | 3.87 | 100 | 87 | 95 |
| 4500 | 36.7 | 31.9 | 8.6 | 4.26 | 3.71 | 96 | 83 | 98 |
| 5000 | 44.0 | 38.3 | 13.8 | 3.19 | 2.77 | 72 | 62 | 98 |
| 5400 | 50.0 | 43.5 | 17.4 | 2.87 | 2.50 | 65 | 56 | 99 |
Conditions:
| | |
| --- | --- |
| Test Power : | 1x175-hp Mercury Marine Sport Jet sterndrive |
| Transmission: | n/a |
| Ratio: | 1.25:1 |
| Props: | imp. |
| Load: | -fuel, -water, 2 persons on board, min. cruising gear |
| Climate: | Temp: 81F, Humid: 70%, Wind: calm, Seas: flat |